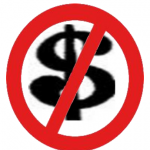 The pride and practice of racism which refers to a 'prejudice or discrimination against a person or group because of a difference in race or ethnicity' hurts people but can also hurt one's surrounding economy. What would an influx of money do for your community?
 So, what does an influx mean? It's defined as ' a steady stream or flow'. Can you imagine having people arrive daily, year round to or near, your community, spending money because there's something special about your particular area that attracts them? It's called 'tourism' and is a beneficial industry for one's community and nation too. Tourists come from all over the land and from other lands around the globe.
A tourist will have money to spend on expenses for travel, food, shelter, gifts for themselves and family. This money helps build the 'services' so one can cater to the travelling tourist. A hotel for shelter, restaurants for food, vending machines for snacks, gas stations for vehicles and recreational vehicles, a park for RV's and/or camping, a market full of locally made gifts, to name a few services. These businesses don't just pop out of nowhere for no reason but having them, creates their own 'needs' and jobs are posted. A win-win for business and the local people.
 Now back to the opening of this topic about racism and what's the point? Well, practicing racism has a certain attitude. One may think they're hiding it but no, it's there. A stranger in town may not quite be able to put their finger on what's wrong but their intuition says, 'danger' and leaving quickly is their goal. They are uncomfortable and will seek 'shelter' of a different sort, like, maybe police protection and leave town by sunset. Would this be a good goal for a community hoping to better their economy?
 The idea of tourists flocking to your community with their wallets at hand vs the tourist running out of town, as fast as possible, with their wallets. Which one would be preferable? Personal safety must be taken into consideration for a successful tourist destination, business or industry, to thrive. Practicing open racism and/or unhealthy attitudes towards 'strangers' sends the message loud and clear 'you're not welcome' here. This in effect will quickly shut down efforts to bring new money, into your community.
 A loss of money will have a trickling effect on the community as a whole. Your local businesses that are part of the 'hospitality' industry which caters to the 'tourism' industry will be forced to downsize and may eventually close. People will lose jobs and financial security because there is no 'influx' of money since the local businesses, have no customers. Do we really want to chase 'tourists' out of town?
Sociologists state that people are not born human but only do so, through interaction with others. The process of social interaction aka 'socialization' helps the ordinary human being learn and acquire the knowledge, attitudes, values and behaviors to function, live and contribute positively, or negatively, to society. In effect, a being who may readily contribute positively or negatively, to their community hospitality and tourism industries. Hospitality and tourism is a 'people' industry that requires one to genuinely enjoy interacting with people. Is racism good for the economy?
Where does racism come from? It could be viewed as the capacity of how one has 'evolved' or to not have, as a human. Others will say it's an 'expression' of fear. Neuroscience speaks of the Male Warrior Hypothesis " which states that a 'GROUP aggression by males is a persistent trait of behavior and is not commonly found in women. These types of behaviors can be found displayed in groups of chimpanzee's yet, again, not as much with the females, in that group'.
The success of planning or building a tourist based industry in our communities can be affected by poor attitudes and behaviors. I'm not sure one would want others to see, or feel, threat of violence against or done on others, when they're visiting. It leaves an extremely poor image and reputation for the community as a whole. We know how 'gossip' can be quite 'viral'  especially with today's technologies. 'Word of mouth' is considered one of many popular 'advertising' mediums. So, what would you want people to say about your community?
Thankfully, humans do have the ability to 'transcend' in their behaviors but it is a personal 'choice'. We cannot force racist attitudes to disappear and some would say, 'unfortunately, every village got to have an idiot'. One common finding with researchers that is shared, believe that ending racism must begin with the government. Applying protections and consequences can help towards changing 'open and hostile' acts and practices of racism. This won't work though if the government, whether openly or subtly, practices and perpetuates racism themselves. What would you want to see for your nation?
Learning in Action
Extra Reading
I hope you found this article informative. Please feel free to leave your comments and share your thoughts. Send me a email if you have a request on a topic of interest or to say hello using the 'Contact Form'. Have a great day!
Article(C)2013, all rights reserved. Ginsense creates and posts articles online about business development, home business, health, science, technology and society. 'Life should be interesting, never mind the boring'.