The cost of living in Canada, has risen to points of being seemingly near unattainable, to enjoy a quality life. So, 'how can I support my family?'
People struggle to put food on the table, pay rent, car payments, bus fare, daycare, etc. Costs for supporting a family may be more! due to meeting needs for other members, besides just ourselves. Stress sets in and that daily nagging question, how can I support my family?
Today, many families have dual incomes where both parents work, and share financial responsibilities of managing the bills. Some families will have the 'main' breadwinner role, and brings home a higher pay, and their spouse may work only part-time hours, to bring extra monies, to help reduce the financial stress, gain possible savings and still provide, a parental presence for their children.
Where to begin?
A business will flourish, when it meets a 'need'. We look around and figure, all the needs are being met, shoe store, clothing store, grocery store, etc., and we find that we are unable to compete with them, but, not all services are met.
A few steps to begin;
Examine your own skills, write them down.
Examine your spouses skills, write them down.
What do you enjoy doing most? Write them down.
What does your spouse enjoy most? Write them down.
Write down a list of all your bills, add them all up for the monthly total.
How much extra money would help make life easier?

Can you sell one of your skills, as a service, to others?
Design a Service Business
Success, in selling your services can be found, by learning to 'market', to a larger group of people, interested in your service skills, and who will become your clients. This can be done with a good 'promotion' campaign, of your services whether on simple bulletin boards, online at Craigslist, using classified ads, or simple but attractive flyers. Friends can also help with simply passing the word along about your services.
Let's examine a sample ad and outcome;'

A client looking for a light housekeeper may be thrilled and call immediately but require your services only twice a week and expect you done within 2 hours, every Tuesday and Thursday. This adds up to $60.00 per day, ($30.00 per hour x2 = $60.00 per day). $60.00 x 2 = $120.00 per week earnings.
Let's say, another client also calls, and again, may require the same schedule of 2 hours, but 1 hour on Mondays and Wednesdays. 1 client ($30.00 x 2 days) =$60.00, a week or with 2 (clients), same math,you are earning an extra $120.00 per week, x 4 weeks (one month) = $480.00.
Setting your own Schedule
Providing this type of 'service' can also be set up, to suit your own schedule. Let's examine the following sample 'day planner' set for working mornings only, 4 days a week, with 4 clients ;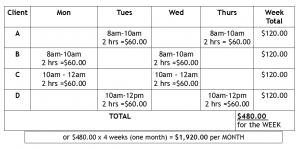 The numbers will vary when holidays are involved but if required by clients, you can ask for a higher price and it's very important, to know your local labour laws. Do not under sell your services or self worth. Success can be found in selling ONE service and finding a few 'clients' who want your service.
Reputation Management and Safety
A major concern with clients will be, TRUST. Nobody wants theft or destruction of their goods and/or property. Police will be called and charges laid. It may be important to consider working with a trusted partner to protect your own innocence, in the event the client files 'false' allegations, so they don't have to pay you. It does happen. Always good to stay safe.
Additional steps you can take towards building trust is to apply to be bondable. This is when you apply to an insurance agent for a 'bond'. It guarantees you are safe and trustworthy to your clients or employer.
Yes, payments are required, and it's best to do research and 'comparison' shopping with your insurance agent or other related financial advisor, so you can get the best protection, and price.
A last note about applying to be bondable. You can easily lose it with the following:
delinquent payment accounts
The other step is to provide a Criminal background report. It is not a guarantee but one way to prove you're at least not a criminal. Lastly, you can ask clients if they'd like to give out Reference letters to others who may be interested in your services. A gold trophy indeed.
Work is Available, look in the Mirror and see You
One sample job has been used but there are many other 'service' jobs that you can offer depending upon your skills. Watch the slide show! You may just want to work part time at the corner store , and still offer your own skills, as another part-time job too.
The scheduling will be in your hands, how much you want to earn, how many days you want to work, how many clients will you need. It's important to keep to your schedule or lose your clients, and 'business' reputation. Do a little research ahead of time about 'business' development and management skills.
Learning Presentation – Visit link 🙂
More presentations from
Gin
Reading Resources
How to Use Daily Planners Effectively
I hope you found this article informative. Please feel free to leave your comments! or share with your Friends who may find this article helpful. Use the 'Ask a Question' form and request a topic of your own interest for an upcoming Post.
AIC| An Informal Cornr, all rights reserved. Ginsense writes articles on business skills, development, health, science, technology and society and enjoys advocating for independence, security and a better world for all of us. She is also a VEA available for Hire 🙂