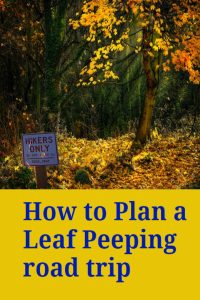 Guest post, Sean Farrell
Every fall, the changing of the leaves and the ushering in of cool, brisk air brings about a fresh atmosphere. As writer F. Scott Fitzgerald said, "Life starts all over again when it gets crisp in the fall." One of the best aspects of the changing weather? The leaves that dot the trees. Deep golds, burgundies, and oranges reach as high as the eyes can see, showcasing just how beautiful nature can be. So, how to plan a Leaf Peeping road trip?
A great way to take in the wonders of autumn while discovering the environment around you is to embark on a fall foliage road trip. All across the country, a plethora of forests and tree-lined paths make for exciting destinations.

It's important to plan out your trip, from how many snacks to pack to the temperature of each place you plan to visit so you can dress appropriately. Take a look at the graphic below to learn more about how to plan the best fall foliage road trip.